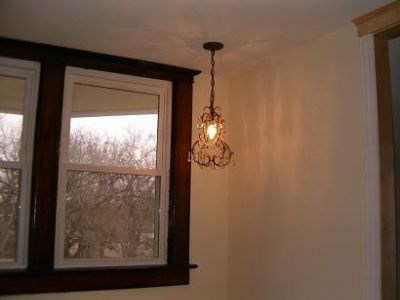 Here is one of the two chandeliers that grace the sides of our bed, when we finally get one. The upstairs bedroom, sitting room, and hallway are painted Morning Sun, a soft yellow. This doorway between the bedroom and sitting room will be painted yellow as well.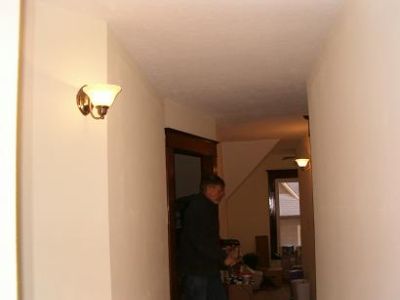 When the two fixtures were installed in the hallway, the lighting circuits and receptables were finally finished.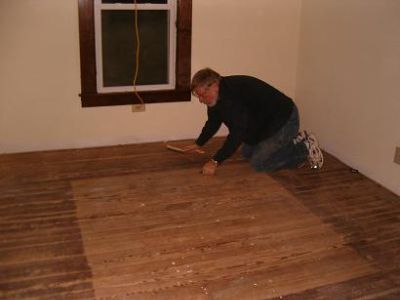 Now we began the arduous task of cleaning up these abused and neglected floors. This one is in the sitting room. A previous owner simply painted around a piece of linoleum. Hence, the unique square on the floor. Bob is using a wire brush to clean out the spaces between boards that are full of caked dirt.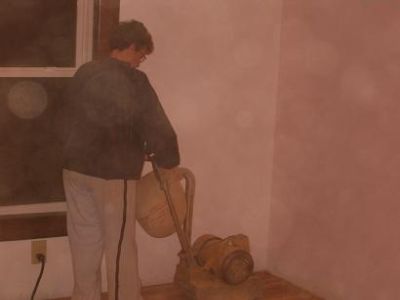 Sandy is sanding floors; living up to her name and Comanche reputation of Sandy the sander. This machine was quite a bit harder to work than the one we used downstairs. This job went faster, but was a lot dirtier.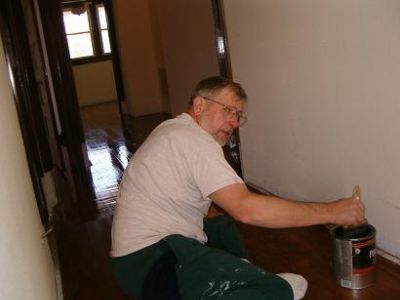 February 28: the stain was put on yesterday, and the first coat of polyurethane was applied. Sandy covered the sitting room and bathing room; Bob did the closets, bedroom and hallway.