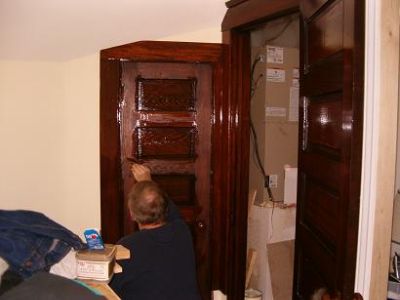 We spent most of January on good days, sanding all the door trim, window trim, and doors for the upstairs. We worked on this down at the storage building. After we got it stained, we painted on the polyurethane. We used plum mahogany by Sherwin Williams for the stain. This door is to the "Alice in Wonderland" closet off the sitting room. The other closet contains the air handler for upstairs.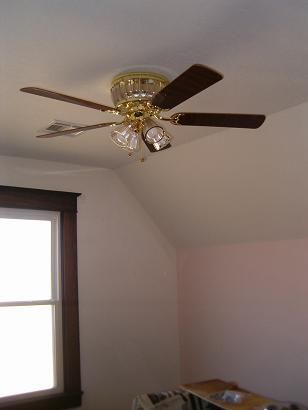 This ceiling fan is in Sandy's bathing room. Three walls are painted White Dogwood, which is a pale pink. The north wall with the window will be papered with bathing ladies in pink and white.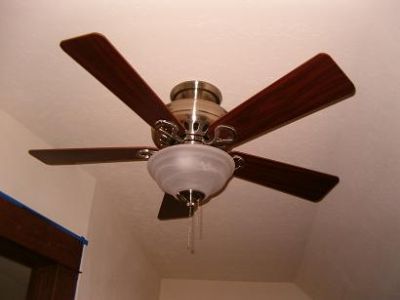 This ceiling fan is in Bob's media room. The ceiling in this room is quite unique and required some diligence to choose one that would do the job and fit, too.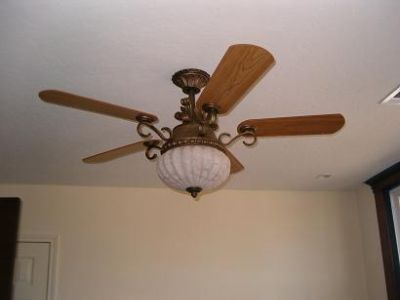 This fan is in our bedroom and it's mate is in the sitting room that adjoins this space. Another picture will show the small chandeliers on either side of the bed. It wasn't installed when we took this picture.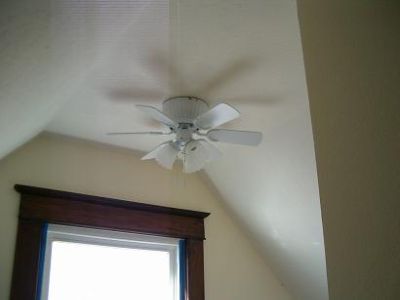 This ceiling fan is at the top of the stairs. It, too, required some consideration of the walls that slant in two directions here.